Say goodbye to April with the top events on the island. Don't miss the Book Week, the Lanzarote Film Festival, concerts, sports and much more that you can enjoy this Friday, Saturday and Sunday.
Enjoy the best 12 Things to do this weekend in Lanzarote.
You can always check the best events on Hola Lanzarote's Calendar and also make the best plans with your own Lanzarote's expert with Localixo app; Download it for free and ask everything you want to know about the island.
Keep reading and let's make some plans...
1. Book Week
This week is dedicated to books all over the world and Lanzarote is not far behind with its programmed activities:
The 7th Yaiza 2018 Book Fair will be held this Saturday, April 28th, from 10:00 am to 7:30 pm, in the Plaza de Nuestra Señora del Carmen in Playa Blanca.
10:00 am. Inauguration of the 7th Book Fair and opening of the stands.
10:00 am to 7:30 pm. Children's mattresses and inflatable toy library.
11:00 am. Children's workshop.
12:00 am. Storyteller with the narrator Cristina Temprano.
4:30 pm. Presentation of the book "No con tu hija" ( "Not with your daughter") by Iñigo Ifrabe.
5:30 pm. Presentation of the book "Allister Z and the mystery of the skeletons" by Miguel Aguerralde.
6:00 pm. Children's show (puppets).
6:45 pm. Presentation of the book "The Adventures of Perenquén Man" by Maite Pozo.
7:30 pm. Closing of the Fair with the children's group Chiquilladas.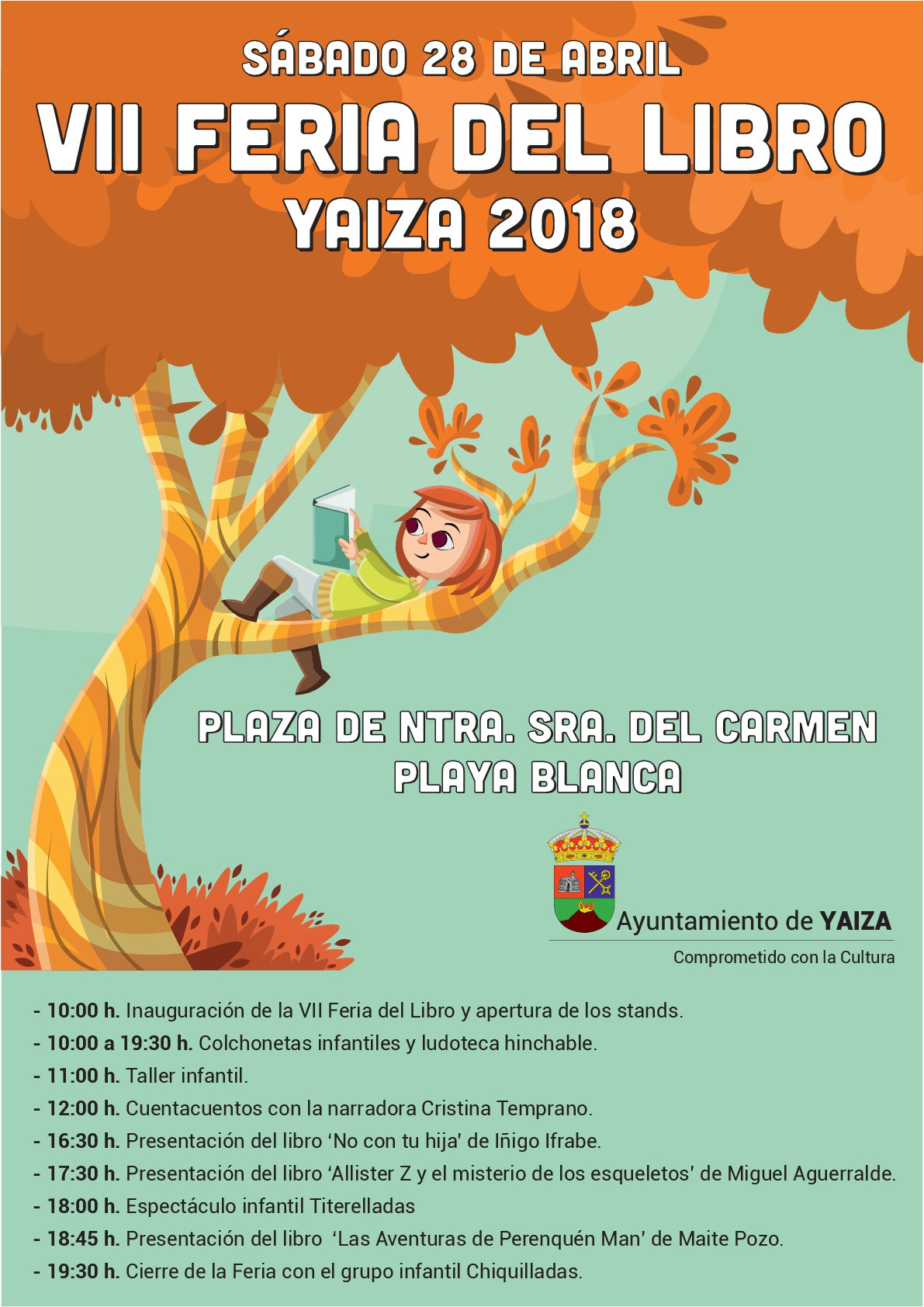 The "2018 Book Week" is being held in Tias until this Saturday, 28th April, with a great programme:
Thursday, April 26th
5:30 pm. Storyteller "Siara, la duende valiente" by La Super Hada Patricia, in the Library of Puerto del Carmen.
8:00 pm. Poetry contes "The Moon and the Sea" results in the Ermita de San Antonio Art Gallery, with the participation of students from the music school of Tías.
Friday, April 27th
5:30 pm. Children's workshop "Happiness as a road to travel" by Pepa González Diaz in the Tías Library.
9:00 pm. Toni Bright's show "Volver a Creer", one of the best mentalists in Spain. Municipal Theater of Tías. Tickets: 10€ in advance and 12€ at the ticket office. For sale at: Pcan de Tías petrol station.
Saturday, April 28th
10:30 am. Opening of the venue where you can enjoy activities such as.... Playroom, craft workshops, painting, live radio program through the Municipal Radio Tias, book signing of authors of the municipality, inflatables and puppets near the Municipal Library of Tias.
11:30 am. Children's theatre "Imagine What You Imagine". Come and enjoy a unique experience with puppets, magic and lots of humor.
1:00 pm. Bookmark and children's storytelling contest for students from schools in the Municipality of Tias.
1:30 pm. The "Coplas de la Calle" contest decision.
2:00 pm. Closure of the enclosure.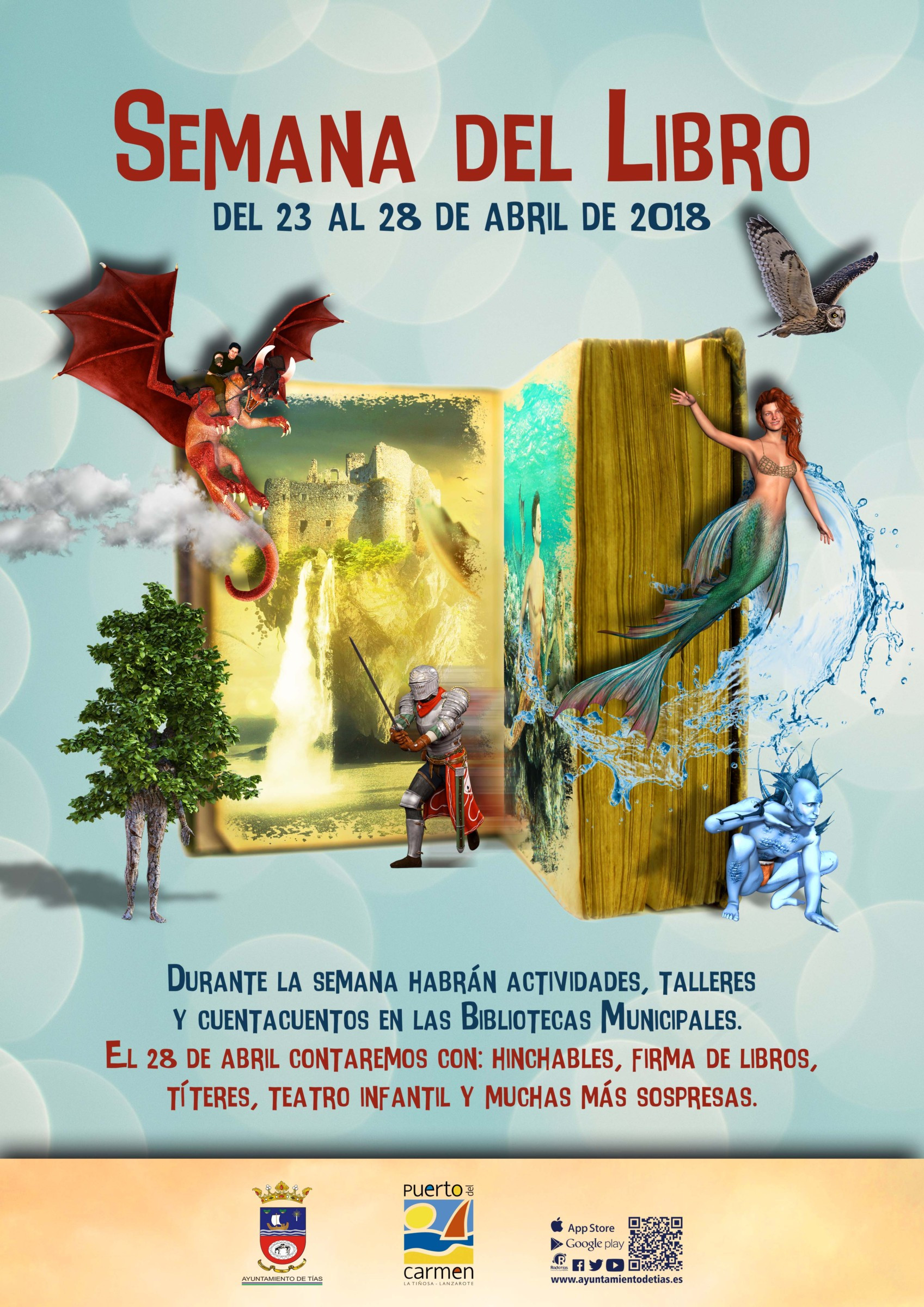 To commemorate Book Week, the Teguise Library Network organizes family storytelling sessions in various villages by professional storytellers.
This Friday, April 27th, the little kids will be able to enjoy a Storytelling session in Teguise, at 6: 00 pm, with Vicky Dos Santos and Aaron, while Isabel Cabrera will also be in Tahíche also at 6:00 pm.
On Saturday, April 28th, Costa Teguise receives the storytellers from Isabel Cabrera at 11:30 am.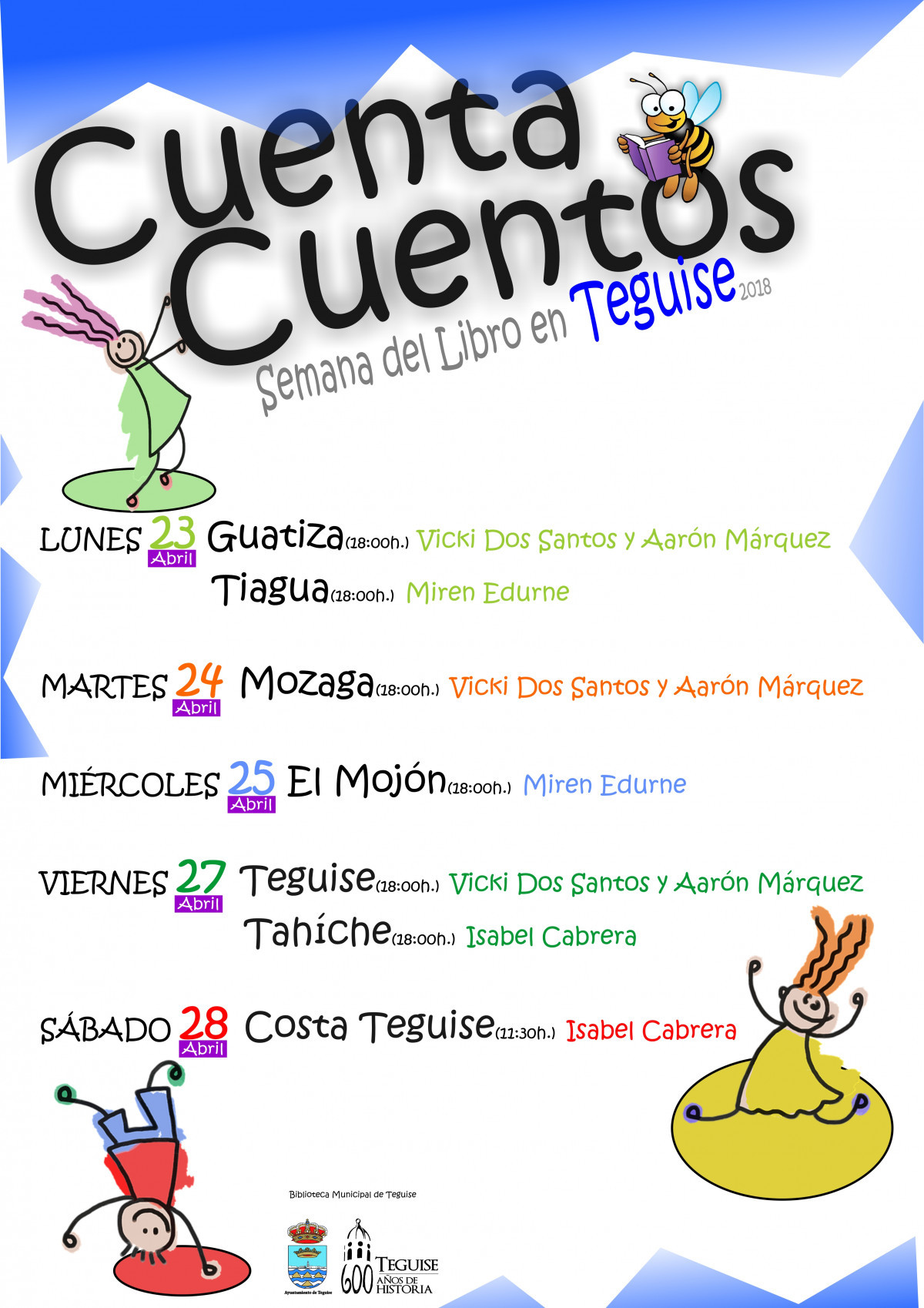 2. Dance and April Fair
April ends with dances and flamenco celebrations.... check out the different events:
Do you dance? On Sunday, April 29th, at 6.30pm, the Deiland Shopping Centre celebrates the "International Dance Day" with an exhibition of many dance styles: flamenco, tap dancing, modern, Irish, Latin, Sevillanas and Arabic dance. By Top Catz Dance by Marlene Pierce.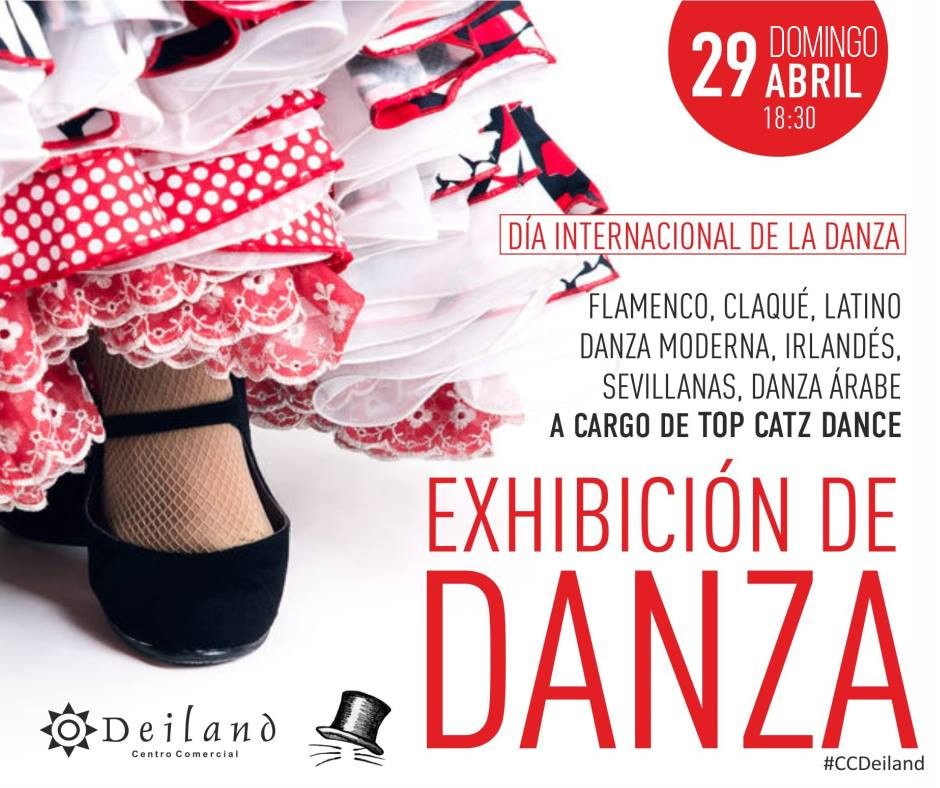 This Saturday, April 28th, at 6:30 pm, the Biosfera Plaza Shopping Center presents a spectacular Flamenco Fusion performance by Antonio de La Rosa and Eva Aroca.

This Saturday, April 28th, enjoy the "Feria de Abril 2018" (April Fair), from 12:00 pm in the Plaza de Santa Elena in Playa Honda. The fair will feature musical performances, dance exhibitions, children's activities and inflatables, a horse charret ride, candy and coffee stands for the benefit of animal shelter Sara and also Andalusian tapas and very fresh "rebujito".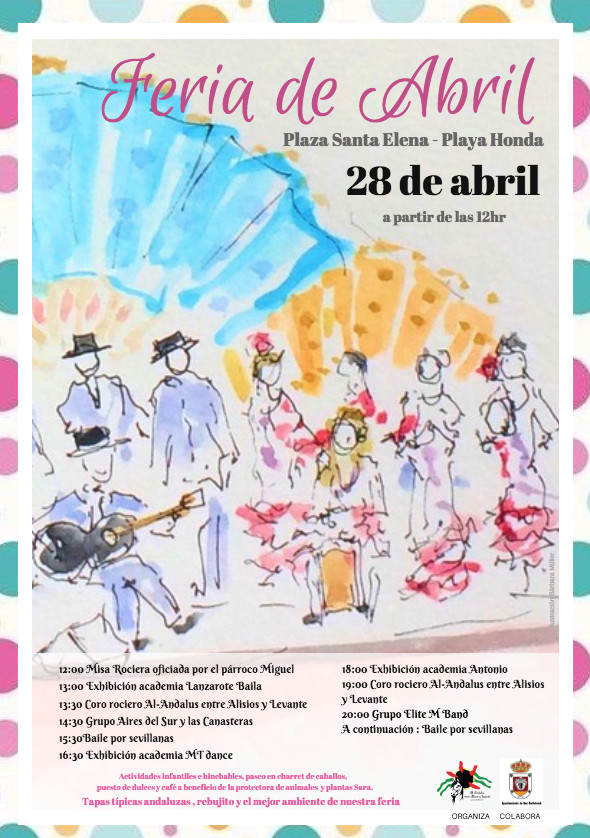 The Timple Museum-House of the Villa de Teguise will be hosting "Timpleteando" from Friday 27th to Sunday 29th April at 9: 00 pm. Tickets are priced at 10€.

After the success of the first season, Angaro returns to the Jameos auditorium. This Sunday, April 29th, there will be a new session at 12:30 pm, with a music show that brings " Living Traditions of the Canary Islands. Music and dance as a link between peoples".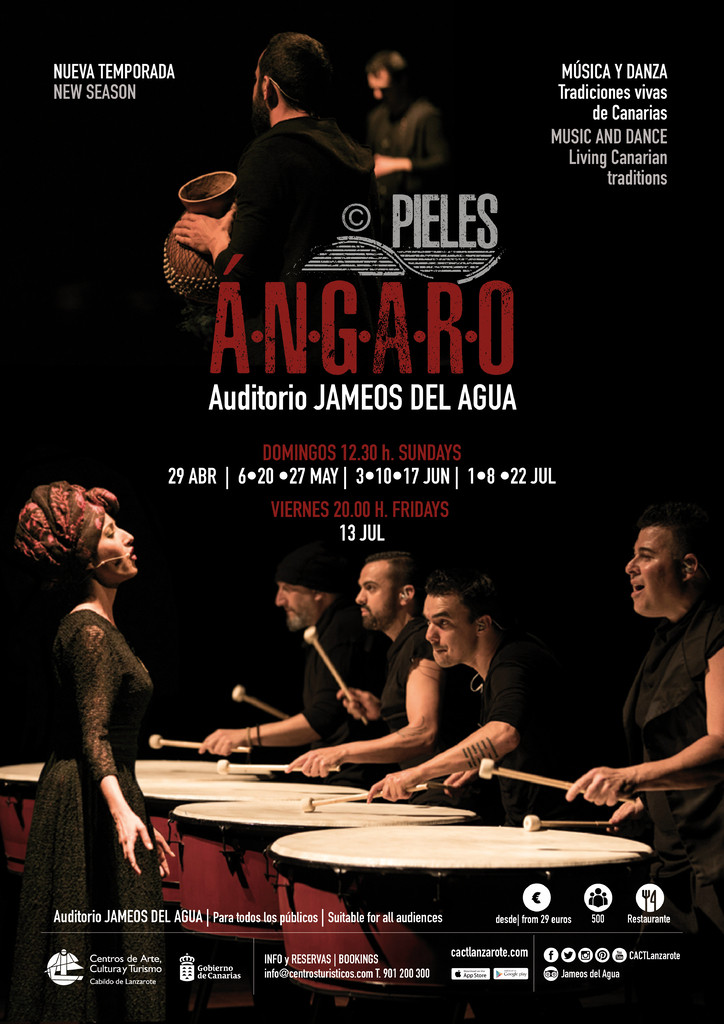 Keep reading...